COFFEE FOR A CAUSE
...comes what may be the finest coffee in the world.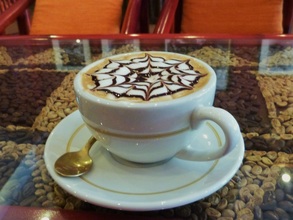 Coffeehouse in Vientiane -- note the coffee table filled with coffee beans!
When Lao was part of French Indochina, colonists discovered the ideal coffee-growing conditions in the highlands of southern Lao, the Bolaven Plateau. Finest Arabica beans grew well, and the Laotian coffee sent back to France was hailed as "the Champagne of coffee."
After the French left and through decades of conflict, the coffee plantations were all but abandoned. Now, however, farmers in Lao are growing coffee again. They grow both the fine Arabica and the heartier Robusta beans -- and Laotian coffee is being rediscovered as one of the most delicious coffees in the world. Production is limited, though, in part because so much of the land remains contaminated with unexploded ordnance. All the proceeds from coffee sales through The Project for Lao UXO Removal's Coffee for a Cause go directly to the Mines Advisory Group's work in Lao. We are hoping to raise enough money to buy detectors for each member of each clearance team, and to buy a Bozena mine clearing vehicle. That's a lot of coffee! But it's also a win-win: you get great coffee and more land in Lao is cleared so more coffee can be grown!




NOVEMBER 2014: I AM COMPLETELY SOLD OUT OF COFFEE! THANK YOU FOR YOUR INTEREST -- I WILL OFFER OTHER PRODUCTS TO FILL IN WHILE I GET MORE COFFEE IN STOCK.
---
SOLD OUT!!
Naga Blend: Medium Roast

The Naga Blend, 100% Arabica Typica beans, medium roast

---

Naga in Luang Prabang

This happy dragon-serpent at Wat Nong in Luang Prabang is one of many guarding the stairways to Buddhist temple entrances in Lao. These beings are said to live in rivers, where some produce "naga fire" in the Mekong.

---

SOLD OUT!!
Elephant Express: Dark Roast

Elephant Express, 100% Arabica beans, dark roast, hearty, not harsh!

---

| | |
| --- | --- |
| | Please note: Shipping only to the US. I can ship coffee abroad and add the cost to your price, but it's super expensive. Then your money would go to support the USPS, not Lao UXO removal. Sad. |

Elephant in Luang Prabang

Lao is known as "the land of a million elephants." This sparkly guy graces Wat Xieng Thong, again in Luang Prabang, and has a water pipe in his trunk.

---

SOLD OUT!!
White Parasol

Grown from the original French plantings, this rare coffee has an elegant, rich flavor. 100% Arabica Typica beans, medium roast

---